Cryptocurrency exchanges suffered a lot of menace in 2018 from the hands of hackers who showed their readiness to frustrate the effort in making the cryptocurrency space to be safe for all users. The Cryptopia exchange hack of 2019 shows that hackers are not relenting their efforts.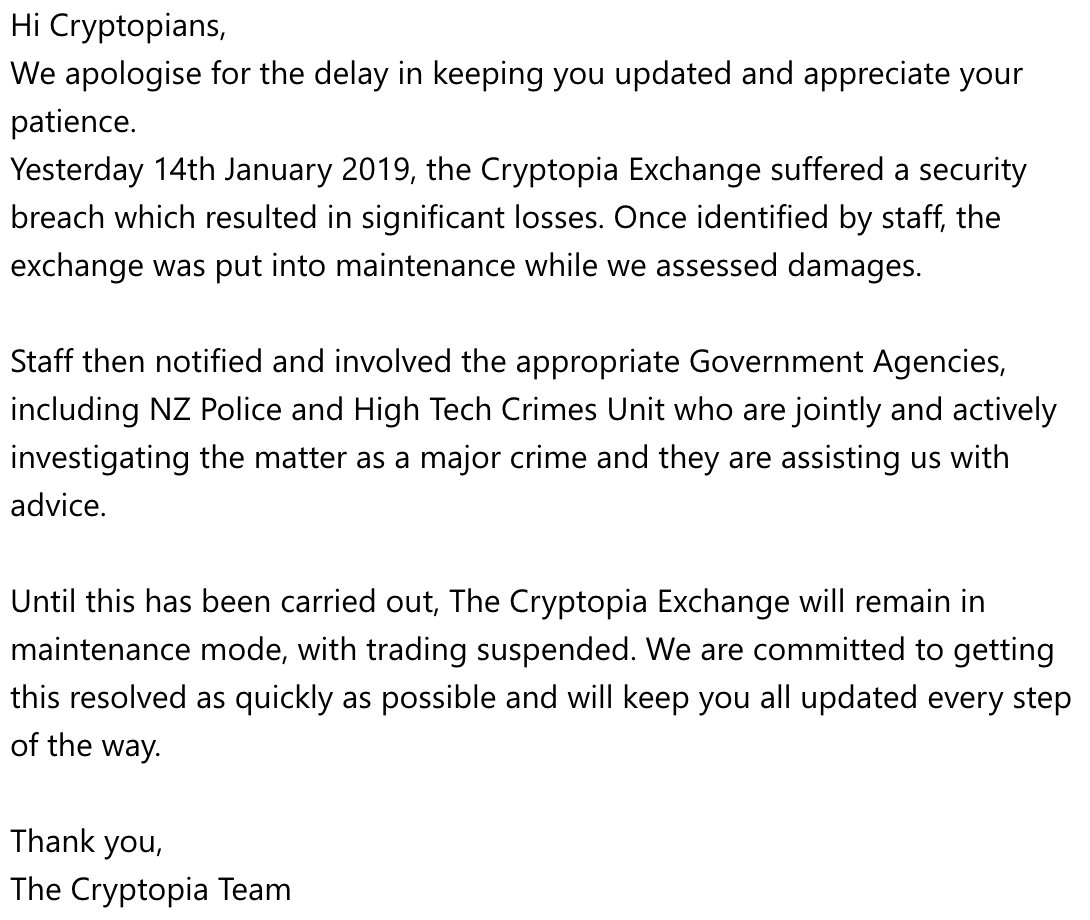 The recent Cryptopia exchange hack of 2019 came as a shock to the exchange, it's users and investigators since it was least expected. Though other top exchanges like CoinCheck, Bitfinex, Bithumb and others have been a target of hackers in the past, not many saw the Cryptopia hack of 2019 coming as it is a lower tier exchange.
Lessons from the Cryptopia exchange hack of 2019
No exchange is too small or too big for hackers
Considering the volume of trade executed daily by Cryptopiai, many would not have believed it would be a potential victim of hackers.
Comparing the exchange to the likes of Binance, it has an average of $390,000 24 hour trade volume. Binance sees almost a $4 Billion in 24 hours trade volume.
This clearly indicates that both small, medium and large exchanges can be a traget for hackers as there are also small, medium and big hackers so don't leave your coins on an exchnage with the umpression that it cannot be a target of hackers.
Not all hackers are triggered by huge gains
One could easily ask what hackers gain in attacking such an exchange with a lower daily trading volume that is below $1 million considering the time and money spent for a successful crypto exchange hack to occur.

Most if not all of these hackers are in need profit hence their targeting of exchanges. However, this hack proves that not all hackers are moved by huge gains.
Cryptocurrency exchange rankings
Some cryptocurrency exchanges are said to be the safest in the crypto space. This is therefpre a call for other exchnages to follow suit and if need be, hire more security experts to keep people's money safe.
Some crypto users may be shocked to know Kraken and Coinbase are among the safest cryptocurrency exchanges at the moment.
Given the increase in crypto exchange hacks, exchanges need to focus on security rather than just adding new features on their exchanges as these hacks and security threats turn to scare people away
cryptocurrency exchange in the world.
Any coin can be a target
Cryptopia exchange is known to be an exchange where unknown tokens are listed and traded until most of them become known and relevant in the market to be listed in bigger exchanges.
Some of the tokens listed on the site are of low price and low market capitalization.
However, some of these hackers also believe in hodling and the potential these low priced coins can have in the future. Therefore, the current price of a coin does not keep it safe from hack attempts.